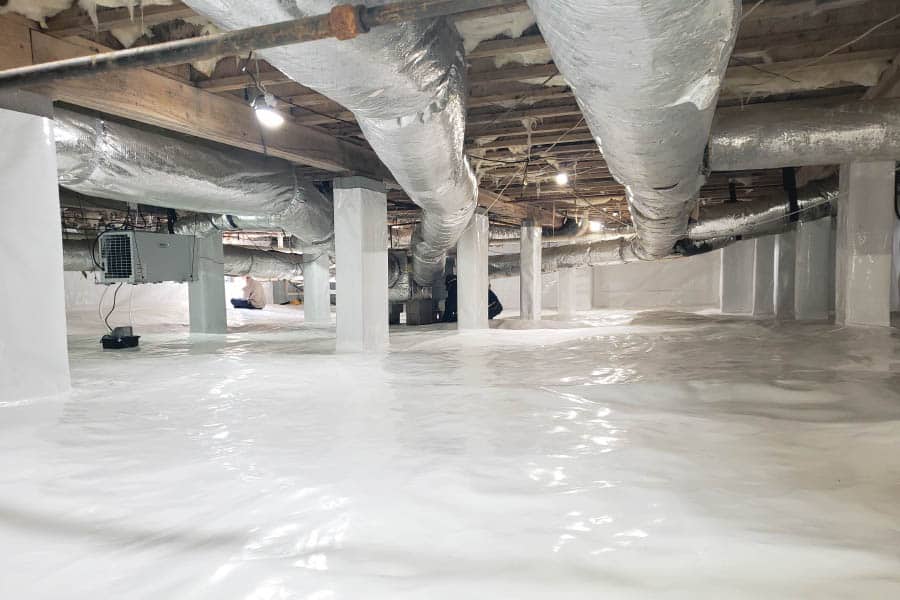 Crawlspace Encapsulation Service
Crawlspace Encapsulation
NOT JUST A MOLD PROBLEM
Besides being a breeding ground for mold, your crawl space has many other dangers. Did you know that up to 50% of the air on the first floor of your home comes from the crawlspace? In Northern Virginia, houses built on crawl spaces have a tough time handling moisture. Without crawlspace encapsulation, dangerous gases such as Radon and polluted air are allowed into the home, leading to allergies, asthma, and a host of other issues.
Crawlspace Encapsulation, Humidity Barrier, and Humidity Control will handle the following issues:
Poor air quality in your living space
Minor allergies to severe infections (breathing difficulties)
Uncomfortable humidity levels in summer and cold floors in winter
Higher heating and cooling costs (15% to 35% higher) and decreased the life of HVAC/HEPA units and ducts.
Structural Decay, including rotted sills, joists, floorboards, stuck doors/windows and buckled hardwood floors
Condensation on air conditioning equipment, ductwork, insulation, water pipes, and truss plates
The Genesis block pattern library has everything you need to design beautiful block-powered websites with just a few clicks. Go Pro to get our entire collection!
Radon Gas

Crawlspace Encapsulation can help reduce Radon Gas.

Radon gas can cause health problems even though it's natural gas. Radon is the second leading cause of lung cancer. Installing a crawlspace encapsulation system can help reduce the radon going into your home.
Insect & Rodent Infestations

Pests & insects are attracted to dark, damp areas that are often undisturbed. Typically, people don't spend time in their crawlspaces. Unless, of course, it is used for storage.

Encapsulating the crawl space is beneficial because it reduces excessive moisture levels. When moisture gets into the crawlspace, it can cause damage to your framing and warp floors.
Our Process

First, we remove all building materials that have been damaged from prior water issues or mold.
We then clean all the framing by sanding, wire brushing, and scrubbing.
We then clean all the remaining items in the crawlspace. Pipes, HVAC system, and anything else in the crawlspace.
A drainage system is installed around the exterior perimeter of the foundation walls. This includes a sump pump, basins, and drain tile.
All drains from the water system are discharged 10′ from the foundation (in the yard). This ensures the water isn't recirculating back into the crawlspace in the event of a heavy downpour.
We then seal all the foundation vents, ductwork, and any other area where humidity can seep in.
Once we have a clean and controlled environment we install a crawlspace encapsulation barrier on the walls & floor. This will lock out radon and additional moisture that seeps out of the earth.
We then install a dehumidifier to control the humidity in the crawlspace which ensures a healthy environment.
Improve Your Air Quality

The air in your basement and crawlspace can impact the entire home. It's crucial in the overall Healthy Air ecosystem, but it's only part of the story. Balanced humidity, purified air, ventilation, and temperature control significantly contribute to your home environment's overall comfort and health. Call American Restoration at 703-880-8708 for a free no-obligation estimate.
Schedule A Free Estimate Today!
We can come out to your property and make a plan of action for you!
Cost of Crawl Space Encapsulation
Crawlspace encapsulation isn't the cheapest service. However, doing a crawl space encapsulation the way we describe above can save you money in the long run. In spending some money now, you will save in the future. In the years we have been providing this service we have found that any and all shortcuts have resulted in poor outcomes.
This is why we have decided to implement a multiple-step procedure to ensure that once the crawlspace has been encapsulated mold and water will be one less thing for you to worry about. We believe in the process so much we are extending our warranty from two years to five years on the installation of the system. Our dehumidifiers come with a five-year warranty as well, and we believe if this were added to your routine maintenance with your HVAC provider the dehumidifier can last 15+ years.
Our Preferred Dehumidifiers Are Below